I recently was talking to a friend of mine, a lawyer, who over dinner was complaining about Yelp. It seemed to me he had the same issue i have had with them, for years. He realized then as I did long ago that yelp is similar to the protection racket that ran rancid in seedy metropolitan places like Chicago in the 20's and 30's. Plain and simple, if you do not pay them their fee, they will cut off your circulation somehow, reduce your exposure to possible clients, cut your credits, cut off your testimonials. Then they call you up every so often and ask if you are interested in advertising with them. You know, to improve your exposure. Its a very frustrating paradigm, and i don't think anyone has successfully figured out a way to counter it. Its some sort of online scalping paradigm, it should be against the rules, against the law. I am hoping he combines forces with some sort of Empire Fights Back company to bring a class action lawsuit against Yelp. In the meantime, since Yelp has made it difficult but not impossible to show testimonials, but given them the classification 'not recommended', i show these to you in a snapshot taken just now, 12/1/2015 around 4:10pm PST. I cannot say when they will remove even these paragraphs. Just to note, all the testimonials are 5 star testimonials, and I still haven't figured out why they are not listed as the top ones. It makes really no sense. They have an obscure and impenetrable darkness around their algorithm for displaying whatever they want.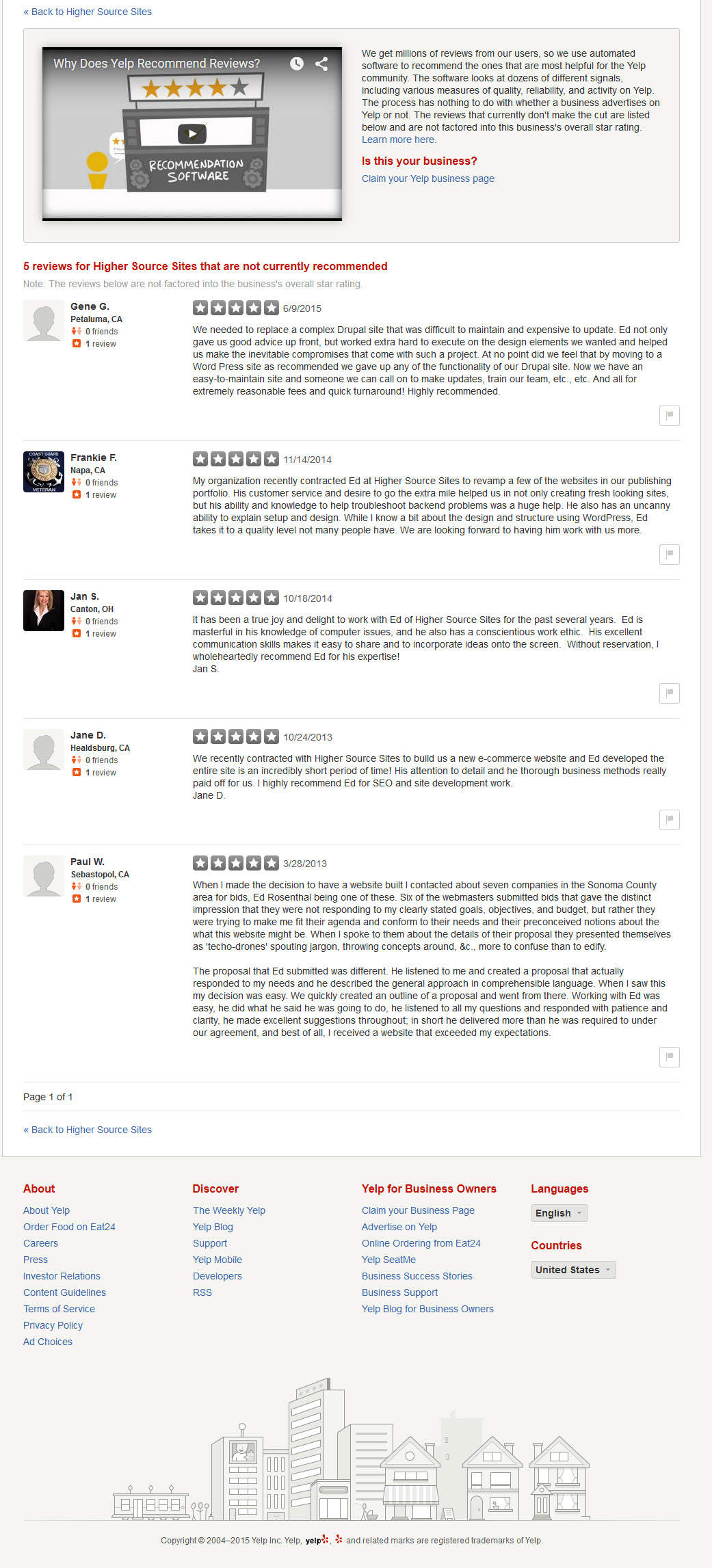 Edward worked at Lawrence Berkeley Laboratory in the hills of Berkeley Ca in the 70's, where the current internet backbone was being developed. He consulted scientists and programmed in fortran, cobol, pascal, C, and Oracle and Informix 4gl's. He worked corporate in the city as a freelancer for 12 years. Higher Source Web Sites started developing web sites in 2001, while in the real estate business. He started blogging and developing sites for his colleagues and his company, then other Real Estate companies. His background in business programming, database administration, & software development made staying within the soft technologies more appealing than other choices. He lives in Santa Rosa Ca with his wife Pam and runs a
beagle rescue
with Pam, teaches chess, and loves music and cinema.
Latest posts by Edward Rosenthal